Emma Cowan visits Ireland's latest state of the art boarding and training kennels and talks to WILLIE BERRY, the man behind this imaginative venture.
Willie Berry's brand new, purpose-built training kennel on the outskirts of Newry is destined for great things. With state-of-the-art accommodation, superb ground alive with game and training from a man who is undoubtedly one of Ireland's best gundog handlers, surely this is where the champions of the future will emerge.
Champion Training Ground
After many years as an amateur, Willie Berry, one of Ireland's most successful field triallers, is going professional. With the final touches on his new kennel block in place, Willie is hanging up his work boots to embark on a second career as a full-time trainer and handler.
"I've got to the stage in my life where I want to enjoy myself a bit more," explained Willie, "so I'm combining my hobby with my future business interests to train dogs full-time."

Luxury hygienic accommodation in purpose built kennelling.

The kennel block, which was designed and built by Willie and his son, Alan, puts a new interpretation on state-of-the art. Constructed in finished block work inside and out, with galvanised steel grill fronts, the twenty-four double kennel units certainly look the part, but that is only the beginning. The entire kennel block benefits from underfloor heating and air conditioning, combining hygiene with supreme comfort and a very substantial outdoor exercise area. There is also an isolation unit, entirely separate from the main kennel block, and, with his thoughts focused not just on the dogs, but also their owners, Willie has designed the entire operation with disabled access.

The kennels even have their own dedicated kitchen for food preparation, stocked as might be expected, with the full range of Feedwell products. Willie also has his own special recipe dog food, which he developed for conditioning dogs and giving them that little extra that his dogs so often display in the field.

While a man with Willie Berry's credentials will naturally focus on field trial training,, Willie's services will also extend to general obedience training, and also the basic working training that show dogs require to gain their gundog working certificates and, of course, the kennels will make the ideal boarding spot for holidays. Indeed, with nine acres of ground managed to maximise cover and game (Willie rears and releases pheasant and duck), a first class feeding regime and a grooming service to boot, dogs kennelled with Willie will certainly enjoy a holiday experience to equal their masters'!
As ever with Willie, he has set his sights high for his new venture. "I've been lucky to be very successful training part-time with my own dogs," he said. "Now that I'm going full-time, I hope to pass on that success to many others and establish what could will become the best training kennel in the world."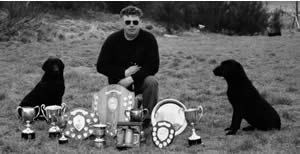 Willie with Rover and Rod and some of the Trophies they won

This may seem a tall order, but perhaps not for someone with Willie's credentials. He has not only been responsible for training his own dogs, which have been some of the most successful dogs in the UK and Ireland, but he has already assisted a good many people with their own training and success.
He was given his first dog, a Cocker/Collie cross, called Rover, when he was only seven years old, and Willie has never been without a dogs since. In his early days, Willie used English Pointers, though when he first moved into trials, it was with Labradors - Loughbane Sam and Loughbane Flicks. The preference for Labradors probably came from Willie's early experiences learning under Jim Cranston, who Willie believes is very probably the best handler in the world. Jim handled the famous golden retriever International Dual Champion David of Westley and also handled pointers. He trained dogs for Winston Churchill. Willie "served his time" under Jim and he has been a very big influence on Willie's own career as a handler.
Willie's move to Canada, where he lived for ten years, widened his experience of hunting and hunting dogs and, while he was there, he won five trials, three with American Water Spaniels and two with Labradors.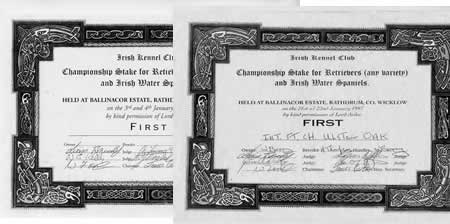 Few people have one Championship win - Willie Berry has two!
Back home again in Ireland, Willie to continued to enjoy moderate success, with a range of Labradors, but it was when he started working with Ulstare Oak (Rover), that his serious success story began. Ulstare Oak's career saw him win the Irish Championship, and this was followed with continual success. Willie's next dog, Beaverbrook Tea (Spud), won her first trial at only twelve months, was made up as a Champion and retired from competition by fifteen months. Then came Tirgarve Oak, bred by Eddie Finn by Ulstare Oak out of Loughbane Millie, who won six trials and was also made up as a Champion. Next in line for success was Meadow King (Rod), bred by Noel Cahill, again by Ulstare Oak, out of Leacroft Shy Lass. Following in his father's footsteps, Rod also won the Irish Championship and was made up as a dual champion, with two two-day stake wins under Kennel Club rules and seven trial wins under Irish Kennel Club rules. He also performed well for Willie in summer tests, but that is hardly surprising, for Willie is renowned for his ability to train dogs that perform equally well in trials, test and the field.
This year, Willie is running Damolly Joe (Duke), another son of Ulstare Oak's, this time out of Country Maiden, and two other Labradors, Molly, the offspring of Rover and Spud and Connie, by Tom Smith's Bandonian Barn out of Leacroft Shy Lass. Since it seems that every dog Willie has competed with has enjoyed some success, it will be no surprise if these dogs perform well too, but then, with Willie training full-time, not just his own dogs, but others as well, he might just find himself up against stiff competition!

Distinguished Duo
Willie Berry's track record as a gundog handler speaks for itself. He has had a great many successes in field trials over the years, has twice won the Irish Retriever Championship and has also won the CLA Game Fair International Test. While Willie has run a good many dogs over the years and has even had success in Canada, Ulstare Oak (Rover) and Meadow King (Rod) are probably his best known gundog success stories.
"From little acorns"
International F.T.Ch. Ulstare Oak's first Open Stake win was in the Republic of Ireland at Broadmeadows - a stake organised by the Mid Louth Retriever Club in 1993 and judged by Joe McGivern. The dog, bred by Michael McKee and Bert Thompson, was only twelve months old at the time.
Under IKC Rules, Ulstare Oak (also known as Rover) had ten Open Stake wins ( including winning the All Ireland Golden Retriever Club's All Ireland A.V. Retriever Stake in 1994. This was the first stake held under Irish Kennel Club rules to be held in Northern Ireland for fifteen years), and one Novice Stake win, while under English Kennel Club rules, he had one novice win, one all aged, two two-day stakes and one Open Stake win. He gained his International Field Trial title in October 1996 and finsihed off a tremendous career by winning the Irish Kennel Club Championship at Ballinacor in 1997 . The only title to elude this most accomplished of gundogs was the IGL Retriever Championships where in spite of competing with merit three times he just could not produce that little bit extra on the day to add this title.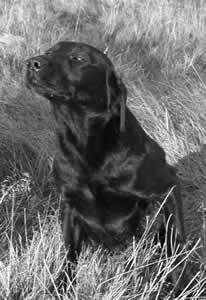 Meadow King
"King of the Meadow"
International F.T.Ch. Meadow King (also known as Rod) was bred by Noel Cahill, out of Leacroft Shy Lass by Ulstare Oak. Trained and handled by Willie, his record is outstanding. He won a novice and two two-day stake under British Kennel Club rules, making him a Field Trial Champion under Kennel Club rules and has no fewer than seven field trial wins to his credit under Irish Kennel Club rules. He has won the Irish Retriever Championship. Meadow King is equally distinguished in gundog tests, having won every international, including the Northern Ireland Game Fair, the Northern Ireland Inter Club Challenge, the Welsh Open, the National Test at Gilford Castle and the CLA Game Fair.
EDITORS NOTE:
In the very competitive world of Field Trials few people make up a field trial Champion nevermind several; even fewer make up an international field trial champion nevermind two; few win a Championship title and it is only the very few who can display two Irish Retriever Championship certificates gained by two international Field Trial Champions.
Wille's ambitions for the future - firstly to win the elusive " British " IGL Retriever Championships - really the only major gundog prize to elude him and secondly to make the Cloughanrammer Kennels the most famous boarding and training Kennel in Ireland. With his pedigree of success behind him few people would bet against Willie achieving these objectives.We at Countrysports and Country Life wish Wille and his new venture every success and we shall keep readers abreast of this exciting new venture.