Celebrity TV Chefs such as Hugh Fearnley-Whittingstall and Jamie Oliver have highlighted not only animal welfare issues with the production of mass produced chickens but also the fact that Free Range chicken is not only kinder to the chicken but is also a much healthier and tastier option for the whole family.

Fifty years ago chickens were slowly reared and fattened for the table. They were fine, plump birds with lots of succulent flesh and luscious, concentrated chicken flavour. A whole family could dine on a roast chicken and still have some left over. Roast chicken was very special – not an everyday thing, but something to be anticipated and savoured.

At Hollymount Farm our birds are reared in a totally traditional old fashioned manner. They grow slow and naturally, as nature intended.

For about 16hrs a day they have access to the outdoors where they scratch about a large field, breathe in fresh air and have a truly natural existence. They are only shut in at night for their own protection from the fox. They have access to shelter when needed, a place to roost and a plentiful supply of grain and fresh water. In the final stages of the preparation of the birds for the table we finish them off on a diet of locally produced cereals plus the clovers and other natural greens they get from their day time foraging. Our birds are killed humanely without stress, dry plucked and left to hang in a controlled temperature as we believe this is best for flavour.

Having decided to take our tastier healthier chickens to a wider audience, the first large batch of Hollymount Farm Traditional Free Range Chickens have been reared and snapped up by local outlets who know well produced chicken when they see it.

We are sure that you will taste the difference of Hollymount Farm Traditional Free Range Chicken!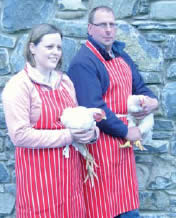 Chicken as it should be!