A Review of the 2002 Art and Auction Scene

by Michael Drake, MBE

Well into a new year and the auction scene is now running in the right gear. But will it produce as many interesting, exciting and lucrative sales as it did last year.

There is no reason why it should not.
Then again economic circumstances, be they national or international or even personal, have a way of dictating what we are going to buy or sell. Should the property market take a tumble who knows what consequences that would bring. Last year house prices in Northern Ireland rose by 16%. Should they maintain that heady level without doubt many householders will still follow the arts and antiques trail.

Looking back over the past year for review purposes can be an exercise fraught with many dangers. The highlights extracted by the reviewer may not match or even find much affection with the opinions of those who attend auctions.

People who frequent sales do so for their own, often private, but always individual reasons. Some come to search for fine furniture only to have their attention distracted by other
lots which they often end up buying.
On the way home they must often wonder why, oh why was a particular purchase made. But that is auctiongoing.

For me last year was an exciting one. Yes, I went on many a spending missions over the past twelve months. At times I had little ambition to buy, but
nevertheless ended up with something that caught my eye at the last moment; coincidentally a few seconds before the auctioner caught my attention. But I have no regrets about the several odd but interesting items I have added to my 'collections'. Sure, come the day
when I no longer want them, they will find a new home through
the vehicle of some friently auction house. Who knows, I might even pass them on again through the same sales houses I bought them in.

That said the year wasn't really a bad one. Daniel Clarke of Ross's, in addition to his weekly auctions had four highly successful Irish art sales. Without a doubt the highlights of his sales calendar must include the disposal of the Lawrence collection, the exceptional sale of works by Arthur Buchman and the studio sale of Charles Bravington. "In total we sold around 2,000 pictures and the market was very strong for everything Irish", Daniel tells me.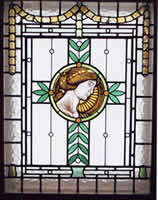 Fine Stained Glass Panel auctioned by Kennedy Wolfenden
Georgian furniture and silver was also in great demand during the year. House auctions were greater in number and of high quality. The contents of Rockwood the home of the linen family Clarkes of Upperland was entrusted to Ross's and was quite a success.


Michael Drake MBE
Twenty named experts give their views on the latest market trends covering around 60 different categories. Images, collated from around the world illustrate a true cross-secion of the fare on offer at sales, auctions, antique fairs and from dealers. Informative features afford the reader a closer look at particular categories with historical, collecting and market information readily available.

Special features this year home in on Toby jugs, blue and white pottery, paper weights, Asian furniture, sculpture and musical instruments. There is even a new section on photographs. According to specialist Richard Meara while photographs have been collected ever since they were invented it was only in the 1970s when Christie's and Sotheby's began to hold regular sales did they take on a new value.

It is a staggering fact but the best and rarest images can now command in excess of £500,000 as was discovered at a recent landmark sale in Paris of 19th century and vintage 20th centry photographs.

"Over the past 20 years photographs have more than held their own against equities in value terms", states Richard.
So don't throw out any old pics particularly those depicting life in Ireland, or elsewhere, in another era.
John Sandon gives some pertinent advice on porcelain observing how dramatic changes in the auction world have affected it.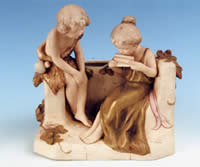 Royal Dux Figure Group auctioned by Kennedy Wolfenden

While collectors push up the price of the best procelain items the market for ordinary pieces is static with values, in some cases, falling. "It is increasingly difficult to find buyers for damaged porcelain while over restored items are almost impossible to sell", is his valuable advice.

Paperweights have never really interested me. At least not until now. But what Anne Metcalfe relates in Millers could give us all much food for thought. For the past decade, apparently, prices for antique glass paperweights have risen.

In the case of Bacchus pieces prices have rocketed from £500 to £2,000.
She says the coming of the Internet has had a big impact on the lives of serious collectors with the keenest of them tuning in daily to what is on offer.

So what about Toby jugs? Well, expert Judi Bland has plenty to say on the subject pointing us towards the period between 1780 and 1825 when the best were made. They were characterised by sharp, well-defined modelling and subtle colours. Ralph Wood's 'Thin Man' jug can fetch as much as £3,000 while others range from under £100 to upwards of £1,000.

This is a fascinating section as are the many others on furniture, clocks, Islamic works of art and even books. Who would have thought a few short years ago a copy of the Lord of the Rings would now be sold for almost £20,000? That's the way of the sales world.
With guides like Millers to help us we
can all learn before our mistakes.

*Miller's Price Guide 2003: £22.99.
Other auction houses had their highpoints too. Auctioneer Gerry McAfee was on a high note when he sold off the contents of Craigdun Castle, near Cullybackey. Top price on that occasion was the £14,500 paid for an oil painting, 'At Prayer' attributed to Spanish painter Murillo.

Carryduff Auctions had a fine day in Newry when they sold a Ruston Horsby stationary steam engine for £6,400.

Wilsons Auctions, Mallusk where Clarke McCartney now yields the gavel have had some exciting nights particularly the one when a Cruiskeen Lawn whiskey jar went for £180. We had a similar happening at Bloomfields where a simple looking wood plane started at a bid of £10 and ended up under the hammer at £320.

Eleanor Wolfenden of Kennedy Wolfenden was pleased with her annual spring and autumn sales. She had a good day too when selling the contents of the Finch residence in Co Tyrone. Without doubt this was an exceptional house contents sale.

Artist Noel Murphy was the flavour of the day at one of Anderson's fine art auctions his 'Hunger' selling for £6,000.

Morgan's had a unique sale during
the summer. They put the contents of G & H Props under the hammer and the catalogue list was a commendable one.
Props from many famous films ranging from 'Saving Private Ryan' to 'Michael Collins' sat side-by-side with others from the Ballykissangle series and The Hanging Gale.

Oliver Gormley of Omagh took time
during the year to break away from running two art galleries to mount a series of successful sales.

Down south HOK, James Adams and Thomas Adams of Blackrock all had
their premier sales days. HOK at their Furniture and Fine art auction in mid November had receipts of Euro 1.25m and the Anne Yeats collection, contained within the sale was particularly popular. She was heir to Jack B Yeats and held much of the material belonging to earlier generaitons of the Yeats family. A once in lifetime occasion.

Away from the auction houses there
were the various trade fairs which
bring colour also to the scene. Louis and Patrick O'Sullivan brought their annual fine art and antiques fair to the King's Hall. Joseph Leckey of Saintfield Antiques and Fine Books also made a significant contribution to the scene with his selling exhibitions at La Mon.

It was a fulfilling year. Hopefully in the months ahead it will be repeated.
An antiques "bible"
Where would you find around 10,000 new items each year, well
illustrated and priced?.

In Miller's Price Guide*, the original must-have 'bible' of the antiques trade, which to date has sold some 3 million copies.

Each year it appears, as regular as Christmas. For many of us it is just as appreciated as the coming of the festive season. Within its pages of course there is a wealth of information on a seemingly never ending range of items.