Michael Drake,MBE takes a look at the Irish auction scene in - which saw thousands of antiques and artifacts come under the hammer
in 2001.

The fall of the auctioneer's gavel can be a sweet sound to both the buyer and the seller. If the former has just found a bargain it is a bonus. And if the seller has received more than anticipated they too enjoy a benefit.

Across Ireland buyers and sellers are spoiled for choice. Practically every day of the week an auction is being held somewhere, north, south, east or west.

Northern Ireland has its fair share of such sales and Belfast has to be the centre for most of them. Occasionally out of town sales prove popular to auction goers- and nothing is as magnetic as a country house sale.

For many it is a Mecca that one cannot visit too often. That is the beauty of such an event. So it was with a unique auction, the one which Dublin auction house HOK fine art, mounted in Ballywalter Park, family seat of the Dunleath family.

Almost 1,000 lots were catalogued for the sale; some 600 of them items no longer required by the Dunleath family, the remainder from the Earl of Erne and other clients.

Lord Brian Dunleath told us why he was selling the items."We had just finished a fiendishly expensive
re-furbishing at Ballywalter Park and had hundreds of items which were surplus to requirements."

There was anger in some quarters over the compensation paid to some farmers One Dumfriesshire farmer was reported to have received £4.2m - probably the biggest pay out made - while another in Northern Ireland was said to have received close on £1m for his hardship. Sadly the world outside farming read these payouts as equal to 'golden handshakes.' This was far from the truth.

The sale attracted buyers and enthusiasts from all over Ireland and enquiries from much further afield.
Without a doubt the event was the sale of the century in so far as this century has progressed. It was a day long event but a highly success full one.

At the end of the marathon the auctioners were able to report receipts of£365,000. Some achievement. Of course this was no surprise considering the number of choice items on sale.

There was a four-fold painted leather screen which went at £4,800 against an est imate of less than half that amount.

A rare golf club stand which some thought would make a few hundred pounds astounded many of us when it fell to a hammer price of £3,200. The 12 Irish provincial dining chairs, from the Armagh Grand Jury Rooms caught the attention of many and
sold for £6,000.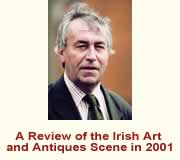 For me the sale was an Aladdin's cave of interesting and varied items. It was, I believed, an event which was outside my purchasing power. How wrong I was. To wards the end of the day I was able to snap up a collection of old motoring books and catalogues from the late 1920's. Recently I was offered over three times what I had paid for the lots. That was only for one book.

Oh. I almost forgot. I also picked up a rare campaign bed. It didn't appear to be of much interest to many of those attending. So I bought it to keep my campaign table, purchased several years ago for a song, happy. That's the effect auctions have on me and thousands of others.

Throughout the year there were many occasions when the sales audiences fell silent to the sound of frantic bidding. One such occasion was at Belfast based Ross's summer sale of Irish paintings. A painting by Basil Blackshaw, 'Lurcher,' an oil on canvas was expected to be well
sought after. But when it fell to a hammer price of £34,000 you could have heard a pin drop.

Blackshaw is certainly the flavour of the moment. But be warned. It will take good money to buy him in the future. Not every one of his paintings will reach such lofty heights. But be prepared to invest some thousands for the one you want. After all Blackshaw is now in the same league, price wise that is, as Paul Henry whose 'West of Ireland Cottages' made £38,000 at Eleanor Wolfenden's two day autumn sale in Tullyglass House, Ballymena.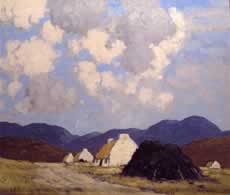 "West of Ireland Cottages" by Paul Henry - image reproduced by kind permission of Kennedy Wolfenden

As usual this event attracted quality pieces among the 500 or so lots on offer there was an early Victorian extending table - 13.5ft by 5ft which made £6,200; a Royal Worcester oval plaque in a mountainous

landscape by Stinton which fetched a like amount and a fine Crown Derby plate hand painted and signed by Leroy which found a new home at £8,600.

Away from the usual run of things we saw Anderson's Michael Flanagan 'hammer' lots at an event of a different hue. It was the auction
held in aid of the North Atlantic Salmon Fund and it attracted receipts in excess of £40,000. The piece de resistance had to be an oil 'Brought to net' donated by keen angler General John de Chastelain who is known to have enjoyed the odd day or so along the river bank when he got time away from the taxing exercise of decommissioning. It sold for £1,100 and I'm sure its present owner would want a lot more if parting with it.

Away from the auction scene there was much to interest the curious as well as the dedicated collector at several fairs held in recent months. Belfast had its first international antiques and fine art fair last winter. It was held in the King's Hall, Balmoral and brought around 10,000 visitors through the doors. Show organiser Patrick O'Sullivan was well pleased with it all.

He had good reason to be so. A superb antique breakfront bookcase sold for over £30,000 while his audiences were attracted to a range of quality items starting under £100 and moving well up the price ladder.
Farm Minister Rodgers quickly followed up on this in November. Launching a new £80m Rural Development Programme she gave the industry a much needed boost. An extremely welcome one at the end of an extremely trying year.

Saintfield based L&M Fairs helped fill the gap during the year by organising successful quarterly events, the only ones of their kind in Northern Ireland, at La Mon. In the months ahead artists like old favourites, Craig, McKelvey and Wilks will continue to find the affection of many. Others to watch are Gladys MacCabe, Carol Graham, Tom McGoldrick and of course that fine water colourist Sam McLarnon whose day must soon arrive as he keeps telling me.

Kennedy Wolfenden and company Ltd can be contacted at :

218 Lisburn Road,
Belfast,
BT9 6GD
Tel: 028 9038 1775
Fax: 028 9038 1147

or

86 Main Street,
Portrush,
Co. Antrim,
BT56 8BN
Tel: 028 7082 2995
Fax: 028 7082 5587

Email:
eleanorwolfenden@hotmail.com